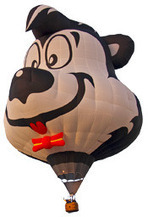 Welcome to the Sonoma County Hot Air Balloon Classic, June 16 and 17, 2011, at Keiser Park in Windsor, California, in the heart of the wine country.
THIS EVEN IS WAY MORE SPECTACULAR THAN IT'S WEB PAGE
I encourage the Sonoma Hot Air Ballons Folks to have a GREAT, GREAT event, and http://www.consultwithamaster.com
as just one more positive person who'd LIKE to see Hot Air Balloon's represented even better than they do AT THE EVENT. Remember the event is 1,2,3 spectacular days … and a SoCooL video last forever …. and there are LOTS of THEM
Can't Wait 'Til This Year
Who's GOT What Coming?
http://Scoop.SoCooL.Com [NO BULL]
See on www.schabc.org