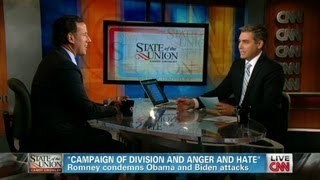 Rick Santorum sharply criticized Joe Biden for his remark that the GOP will put African Americans "back in chains."… #socool
Four Days on a half of sentence spoken by VP Joe Biden
Y'all #socool
http://TODAY.SoCooL.Com/
http://GoodTimes.SoCooL.Com/
http://Scoop.SoCooL.Com/
THIS DAY IN HISTORY … August 19, 2012
An half sentence spoken by Vice President Joe Biden CONTINUES
To Be BIG NEWS … on all the Sunday Shows, etc.
One spokes person on the upcoming Presidential Election said …
The choice of Paul Ryan as a Vice Presidential candidate GUARANTEES that the voters will have a CLEAR CHOICE …
You know what that means? As history repeats itself what folks continue to say over and over on our now not publicly owned media …. is BULL SHIT!
See on www.youtube.com